A few years ago, during a discussion session at an ACYO Religious Retreat a question was asked concerning the role of women in the Armenian Church. Little did I suspect at the time that a wonderful growing experience would unfold for our congregation at the St. Andrew Armenian Church in Cupertino, California.In response to the question, scriptural and canonical references to women in the Church were cited and the Armenian deaconesses in Turkey, Iran and Georgia were remembered. It was at that moment that a young college student named Seta Simonian asked if she could join the deacon's training program at our parish. I welcomed her.
"When we speak of women in the Armenian Church or any idea which is uncommon for our Church we make two fundamental mistakes in our thinking. First, even though we know better, we limit our Church traditions to our immediate circumstances. That is to say, if something or some expression does not exist in our church today, such as women serving as deacons, we then assume that it is not traditional. Unfortunately we continue to reason that the admission of these ideas into our church is going against tradition. However, upon studying scripture, Holy Traditions and Church history, it becomes evident that women have always been active participants in the worship life of the Church. Therefore, a church with women serving as acolytes and/or deacons today, must in fact be considered "traditional."
…………………………………………………………………………………………………………………………………………………
Diaconate Audio Recordings and Transcripts Now Available
Greeted by His Eminence Metropolitan Gerasimos of San Francisco
AUDIO RECORDINGS AND TRANSCRIPTS NOW AVAILABLE
His Eminence Metropolitan Gerasimos of San Francisco, Greek Orthodox Archdiocese of America, inspired and encouraged participants at St. Phoebe Center for the Deaconess October 6–7, 2017 conference at St. Paul's Greek Orthodox Church in Irvine, CA, to continue their efforts to "keep on discussing, keep on acting, keep on making waves—positive waves—in the spirit of Christ."  A deacon himself from 1979–2002, he acknowledged that "the ongoing discussion about restoring and renewal of the diaconate is very important in the life of our Church . . .  We have yet to educate our faithful about how a thriving diaconate expands the pastoral reach of the Church and presbyters just as ordaining deacons expanded the reach of the apostles in the Book of Acts."
His Eminence thanked the conference presenters for doing "appropriate" diaconal work in chaplaincy, counseling, and visitation because they "articulated [their] own passion:  the love of God and the grace of the Holy Spirit and make it real in our lives and the lives of those who suffer, the lives of the priests and deacons of the Church."  This included the counseling aspect of Demetra Jacquet's presentation that "fits nicely the work of a deaconess," and noting that in a history of women deacons essay by Valerie Karras "there's lots of rich material that we have not unfolded, unwrapped."    His Eminence noted that the challenges of reviving the diaconate are many:   What will deacons do?  Is it permanent?  What education and training is required?  How "you and I make this particular paradigm change in our faithful"?  He noted,  "Forty years ago, there were the same questions about the concept of the deacon, the deaconess.  We have come a little bit forward. At least we are talking about it."
This unprecedented conference addressing the issue of male and female deacons together heard outstanding presentations from the speakers and moderators pictured above, from left to right:  Rev. Archdeacon John Chryssavgis, Dr. Demetra Velisarios Jaquet, Gust Mecera, Rev. Protodeacon Peter Danilchick, Dr. Carrie Frederick Frost, AnnMarie Mecera, Rev. Father Anthony Gregg Roeber, Rev. Deacon Paul Cherkas, Rev. Protodeacon Brian Patrick Mitchell, His Eminence Metropolitan Gerasimos, Rev. Deacon Nicholas Denysenko, Cllio Pavlantos, Very Rev. Father Alexander Rentel, Dr. James Skedros, Dr. Valerie Karras, Rev. Father Michael Courey, and Rev. Father Steven Tsichlis.
Shortened presentations will be emailed to subscribers of the St. Phoebe Center and Public Orthodoxy.
AUDIO RECORDINGS AND TRANSCRIPTS
An entire audio recording of the conference will soon be available. Subscribe on this page for updates.
…………………………………………………………………………………………………………………………………………………
Women Deacons in Africa; Not in America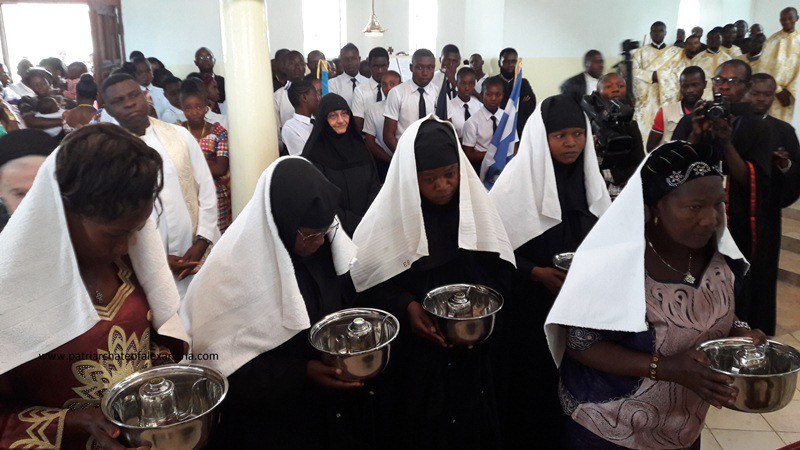 by Carrie Frederick Frost
History was made on February 17, 2017 when five women were consecrated deaconesses in the Orthodox Church. For many of us, this is a welcome but shocking development.
Speaking for myself, I expected the reintroduction of a female diaconate to occur in Greece, or elsewhere in Europe, or, even more likely, the United States; say, Pittsburgh. These are the places with multiple advocacy groups and a robust academic investigation into the history and pastoral function of the female diaconate.
Frankly, I anticipated—in a most unexamined way—the first Orthodox deaconess of our era would be white woman. (Let me pause and be clear, lest my readers be distracted: even though I am a white American woman advocating for the female diaconate, I have neither call nor desire to serve in this way.)
I now know that I suffered a serious failure of imagination.
The historic consecration of deaconesses this February took place in the African interior: in the Democratic Republic of Congo, part of the Synod of Alexandria. The five women who made history are Africans.
My own biases and insular experiences of Orthodoxy in America and Europe have limited me, and I am humbled.
The other factor that has limited me, and others interested in this topic, is the lack of international Orthodox forums for communication among hierarchs, scholars, and interested laypersons. As far as I can tell, no one in the English-speaking parts of the Church knew about the new deaconesses until a few days after they had been consecrated. Also, none of us working on the issue knew that the Alexandrian Synod was even considering this matter prior to its decision to revive the female diaconate a few months ago.
There are two questions I find very interesting: Why there? And why not here?
Why has the female diaconate been revived specifically in Africa, and why (or how) so swiftly? Though very little is known so far about the specific women consecrated at the Missionary Centre of Kolwezi, a news release states that one, Theano, will be given the title "Deaconess of the Missions," and that the other deaconesses will help with missionary efforts including adult baptism, marriage, and catechism. It appears that these women were "blessed" to the diaconate, rather than "ordained," yet they are being referred to as "deaconesses" rather than "sub-deaconesses." It will be fascinating to learn about the mode of their consecration as more information makes its way to us in the US.
It also appears that their work will be deeply tied to the missionary efforts of the Orthodox Church in this part of Africa, which has been active since the 1950s and has more than a hundred parishes.  Bishop Athanasios Akunda of neighboring Kenya told me back when the Synod initially voted to revive the female diaconate: "Women are all over in our ministry. What is being done [making them deaconesses] is just confirmation for them to do their work not in fear. Yes, we need them." I suspect that it is more comfortable for deaconesses in Africa (rather than deacons or priests) to assist with missionary matters like adult female baptism. Other issues of modesty and the culturally appropriate nature of woman-to-woman ministry may be informing these consecrations.
It is noteworthy just how quickly the Alexandrian Synod moved. After voting to revive the female diaconate in November of 2016, it consecrated its first deaconesses three and half months later.  In Orthodox time, that is a supersonic pace.
Though I had a failure of imagination in my own vision of the future female diaconate, happily this was not the case in Africa; the Alexandrian Synod saw a pastoral need and took decisive action.
Why has the female diaconate not been revived here in the US, despite active engagement and advocacy with this issue by scholars, laypeople, clergy, and even some hierarchs?
There is clearly a need for it. The American Church should ratify and bless the ministry that, in some cases, is already taking place. The Church should formally recognize and value the work that women offer as service (diakonia): feeding the poor, visiting the sick, praying with those in prison—work that is often valued and remunerated by secular society but not by the Church.
Perhaps most importantly, women need woman-to-woman ministry. This is not a need exclusive to modesty requirements during adult baptism in fourth-century Jerusalem or to missionary efforts in contemporary Katanga. There are so many challenging or important situations in which I believe most women need the ministrations of a woman rather than a man, such as: domestic violence, marital problems, miscarriage, sexual abuse, rape, menstruation, childbirth, lactation, care of the elderly, and gynecological illnesses. Every priest should be trained in, say, how to compassionately counsel a woman who has miscarried; I am not suggesting that all the male clergy step away from these matters (in fact, they would benefit from having female colleagues who have direct experience with these things). However, I would think this would be a place that the most traditional and the most progressive minded among us might agree: does it not make sense, for example, to have a trained and vetted deaconess who is overseen by her bishop and called to this work to minister to a young woman who miscarries her first pregnancy at twenty weeks?
There are many convincing reasons to revive the female diaconate, in my opinion, but the real need for woman-to-woman ministry is high on my list. For bishops and synods (other than Alexandria) to offer anodyne statements to the effect that the female diaconate 'ought to be investigated,' instead of dedicating effort into actively creating a female diaconate for the twenty-first century implies willful ignorance of real need, as well as a failure of not just courage, but also of imagination.
Even in the midst of this failure of imagination, there is—for me—no absence of delight in these recent events. I am rejoicing in the Lord that the needs of the Church are being acknowledged and that my sisters-in-Christ are being courageously and imaginatively honored in their call to diaconal ministry in the Orthodox Church in the Diocese of Katanga, Democratic Republic of Congo, Synod of Alexandria. May their courage and imagination be contagious!
Carrie Frederick Frost, PhD is a scholar of Orthodox theology, Professor of Theology at Saint Sophia Ukrainian Orthodox Seminary, and a Board Member of Saint Phoebe Center for the Deaconess.  
……………………………………………………………………………………
Patriarch Theodoros of Alexandria performs first consecration of deaconesses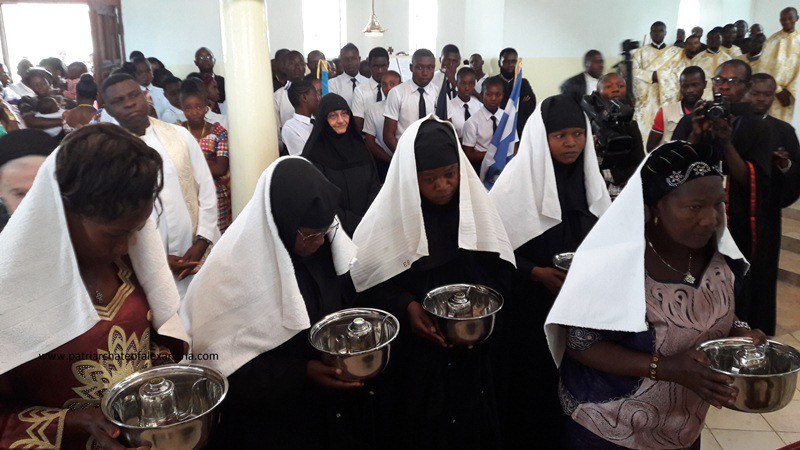 On the feast of the Saint and Great Martyr Theodore of Tyre, 17 February 2016, the day on which His Beatitude Theodoros II, Pope and Patriarch of Alexandria and All Africa celebrates his name day, a festive Divine Liturgy was celebrated at the Holy Church of St Nicholas, within the Missionary Centre of Kolwezi.
Together with the Alexandrian Primate concelebrated Their Eminences Nicephorus, Metropolitan of Kinshasa, Innocent, Metropolitan of Burundi and Rwanda, and the local Metropolitan Meletios of Katanga, accompanied by the Clergy of the Hy Metropolis.
As the official site of the Patriarchate reports, His Beatitude the Patriarch spoke during his homily about the Great Martyr St Theodoros, emphasising the confession of martyrdom before the persecutors of faith and his love for Jesus Christ.
At the end of the Divine Liturgy the Primate of the Alexandrian Throne consecrated the Catechist elder Theano, one of the first members of the Missionary staff in Kolwezi, to "Deaconess of the Missions" of the Holy Metropolis of Katanga and read the prayer for one entering the "ecclesiastic ministry" for three Nuns and two Catechists, in order for them to assist the missionary effort of the Holy Metropolis, particularly in the Sacraments of Baptisms of adults and marriages, as well as in the Catechetical department of the local Church.
Note that it is the first time in the history of Missions in Africa that these consecrations have been done.
See more photos and original story here.
……………………………………………………………………………………
"Invisible Leaders in the Orthodox Church" Released by Aphaia Resources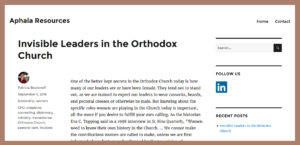 Written by Patricia Fann Bouteneff, this powerful and enlightening article lists dozens of women serving in a diverse group of leadership roles within the Orthodox Church. Patricia admits that the list is "preliminary", and a visit to her posting of the article on Facebook indicates that many of her followers have already submitted names of other women carrying out vital roles within the Orthodox Church.
Patricia writes, "One of the better kept secrets in the Orthodox Church today is how many of our leaders are or have been female. They tend not to stand out, as we are trained to expect our leaders to wear cassocks, beards, and pectoral crosses or otherwise be male. But knowing about the specific roles women are playing in the Church today is important, all the more if you desire to fulfill your own calling. As the historian Eva C. Topping said in a 1998 interview in St. Nina Quarterly, "Women need to know their own history in the Church. … We cannot make the contributions women are called to make, unless we are first informed of our history and enlivened by the true vision of Orthodoxy that all are equal in Christ." She is right: we women must know our history, but I would add that we have an even greater need to understand our present reality."
……………………………………………………………………………………
Work of St. Phoebe Center is Mentioned in Commonweal Magazine article "Will the Church Get Women Deacons?"

In an article titled "Will the Church Get Women Deacons?" appearing in the July 8, 2016 issue of Commonweal Magazine, author Rita Ferrone suggests that "Clergy who obsess about the dangers of clericalism in women are projecting their own sins and selling short women's capacity for virtue."

The magazine is billed as an "independent journal of religion, politics and culture edited by lay Catholics". The author of several books about liturgy, Ferrone points out: "There is also conversation in Orthodox circles about the "rejuvenation" of the ministry of women deacons. Here one might mention the scholarly work of Kyriaki Karidoyanes FitzGerald, Saint Catherine's Vision (a pan-Orthodox theological fellowship), and the St. Phoebe Center for the History of the Deaconess."
……………………………………………………………………………………
Board Member Teva Regule PhD (Candidate) Delivers Sermon "Who Do We Trust and Why?" Reflections on Thomas Sunday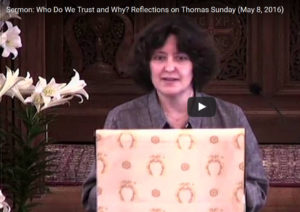 ……………………………………………………………………………………
2017 Conference to be Held in Irvine, California
June 1, 2016
A 2017 Pan-Orthodox Conference hosted by the St. Phoebe Center for the Deaconess will be held October 6 & 7, 2017 at Saint Paul's Greek Orthodox Church, Irvine, California, where Rev. Fr. Steven Tsichlis is rector.
The theme of the conference is "Renewing the Male and Female Diaconate in the Orthodox Church".
The keynote address will be given by Rev. Dr. John Chryssagivis, Archdeacon of the Ecumenical Throne, who will speak on the theology, history, and purpose of the diaconate (male and female).
As more details become available they will be posted here and on our Facebook page.
……………………………………………………………………………………
Note: Recently appearing on Public Orthodoxy, the following essay was written in part by two St. Phoebe Board Members Teva Regule, PhD (candidate) and Carrie Frederick Frost, PhD. The essay was sponsored by the Orthodox Theological Society in America's Special Project on the Great and Holy Council and published by the Orthodox Christian Studies Center of Fordham University.
Women and the Great and Holy Orthodox Council
As preparations continue for the Great and Holy Council set for Pentecost 2016, we eagerly look for the inclusion of women in the Council proceedings.
Voting delegations of the Great and Holy Council are exclusively comprised of hierarchs from each of the fourteen local autocephalous Orthodox Churches and are appointed by each of these Churches. Other participants, however, will be present at the Council.
Article 3 of the "Organization and Working Procedure of the Holy and Great Council of the Orthodox Church" document approved in Chambesy in January 2016, notes that, "The delegations may be accompanied by special consultants—clergy, monastics or laypeople—but their number cannot exceed six (6)." These special consultants are allowed to "attend the Council's plenary sessions—without the right to speak or to vote—and are expected to assist the Council's Secretariat or the Council's Committees, with the right to speak and exercise special functions assigned to them."
These six special consultants from each Church are the sum total of those participants not drawn exclusively from the hierarchy of the Orthodox Churches. Observers from other Christian churches, as outlined in Article 14 of the same document, will be present but will not participate. Special consultant slots will allow priests, deacons, and monastics to attend the Council. They will also allow—if delegations so choose to invite them—laity, particularly women, to attend. That women might be possibly present at all was not clear until the approval of this document in January 2016, although we were encouraged by the presence of women at the Scholar's Meeting held in the Phanar earlier in January.
The Great and Holy Council of 2016 is eagerly anticipated, in part because of the approach to worldwide conciliarity in the Orthodox Church that is even now unfolding. This moment in time offers the perfect opportunity to reflect on the importance of the presence of women at any conciliar event of Orthodox Christians.
Support for the presence of women at the Council can be found in the preamble of another of the pre-conciliar documents, "The Mission of the Orthodox Church in Today's World," when it is stated that the good news of the Gospel is experienced by the Church, "especially each time the Divine Eucharist is celebrated, bringing together (I Cor 11:20) the scattered children of God (Jn 11:52) without regard to race, gender, age, social, or any other condition into a single body where there is neither Jew nor Greek, there is neither slave nor free, there is neither male nor female (Gal 3:28; cf. Col 3:11)."
Even more directly, the same document later asserts in Article 5.1, "The Orthodox Church confesses that every person, regardless of color, religion, race, gender, ethnicity, and language, is created in the image and likeness of God, and enjoys equal rights in society." It has been the conviction of the Orthodox Church over the past two millennia that women were "created in the image and likeness of God," and, "enjoy equal rights in society." We hear an echo from sixteen hundred years ago, when Saint Basil stated that the natures of men and women are "alike of equal honor, the virtues . . . equal, the struggle equal, the judgment alike" (On the Human Condition).
It is inconsistent with this legacy to not openly encourage the presence and participation of women in a Great and Holy Council. Furthermore, the participation of women in the life of the church—as church musicians (e.g., chanters, choral singers and directors), iconographers, theologians, theology professors, historical scholars, parish and diocesan council members (i.e., church governance), ministers of philanthropic outreach, chaplains, scientists, mothers, monastics, educators, lawyers, clergy wives, etc.—is of collective value to our Church today. We may be reminded of the pivotal role of the Blessed Irene of Athens in the convocation of the Seventh Ecumenical Council, which restored the veneration of icons, as we consider the appropriate place of women at a Council in our own day, where their influence is no longer governed by imperial office or social standing.
It is difficult to imagine how decisions related to many of the topics of this Council can be made without input from women.  Discussions concerning marriage, for example, relate equally to women and men, yet it is possible that only men will contribute to the Council's agenda item on marriage. While the Church acknowledges the equality of women and men (as noted above), the Church does not conflate woman and man. This differentiation comes with different experiences, perspectives, and approaches that need to be incorporated into the Church's teachings and decisions. Having only a few women present at the Council (if indeed there are any women) will constrain adequate dialogue on these issues.
The Church that declared from its inception that women and men are equal in dignity, nature, and salvation has much to gain by including and listening to its women's voices in the twenty-first century. It is our hope that many of the Special Consultants of the Great and Holy Council of 2016 will be women. It is our conviction that this Council will forge a new model of worldwide Orthodox conciliarity, and that future Councils ought to further include women, offering them more avenues for participation.
Board Member Dr. Valerie Karras to Speak at Women's Conference
Saturday, June 27
9:30 AM to 4:30 PM
Glen Cove, NY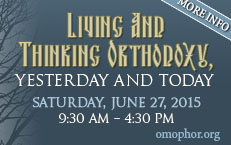 Dr. Valerie A. Karras, professor at Eden Theological Seminary in St. Louis, MO, and St. Phoebe Center board member, will speak at the Russian Orthodox Church Outside of Russia (ROCOR) Women's Conference titled "Living and Thinking Orthodoxy Yesterday and Today". Dr. Karras will speak on "The Liturgical Roles of Women in the Early and Byzantine Church." The conference is being held Saturday, June 27, 2015 at Holy Virgin Intercession Church in Glen Cove, NY. Get more information here.
………………………………………………………………………………………………..
Re-cap of Conferences Scheduled in DC Area
"Restoring the Holy Orthodox Tradition of Deaconesses"
Thursday, May 28, 2015
7 pm
St. Katherine Greek Orthodox Church
3149 Glen Carlyn Road
Falls Church, Virginia
Join us for a Pan-Orthodox re-cap
of two recent conferences on deaconesses:
St. Phoebe Center, New York City, Dec., 2014, and
CEMES at the University of Thessaloniki, Greece, Jan., 2015
RSVP & further information: mrouvelas@verizon.net

………………………………………………………………………………………………..
Re-Cap of Women & Diaconal Ministry Conference
Saturday, May 16, 2015
4 PM
St. Gregory of Nyssa Orthodox Church
2219 Summit St.
Columbus, Ohio

The conference was originally held December 6, 2014 in Manhattan and hosted by the St. Phoebe Center for the History of the Deaconess.
Join St. Phoebe founder, Ann Marie Mecera, Caren Stayer, PhD (presenter and Board member), with reflections from Fr. Daniel Rentel (Board member), as they review conference presentations and results of discussion sessions.
………………………………………………………………………………………………..
September 21, 2014
VISIT THE WOMEN & DIACONAL MINISTRY CONFERENCE PAGE
………………………………………………………………………………………………..
September 15, 2014
REGISTRATION IS NOW AVAILABLE!
St. Phoebe Center 'Women & Diaconal Ministry:
Past, Present & Future'
Saturday, December 6, 2014 / 9 AM to 5 PM
Union Theological Seminary
3041 Broadway @ 121st St., NY, 10027
ABOUT THE CONFERENCE
THE PAST Build a solid understanding of the female diaconate in the early and medieval Church with presentations and discussion that explore the ministry and the attempts at the restoration of the office in the modern era through the work of Evangelos Theodorou, the decisions of the Rhodes Consultation, and the churches of Russia and Greece.
THE PRESENT Learn about the 'diaconal' work that women are doing today as chaplains, spiritual directors, ministers of the Word, and parish administrators and outreach coordinators.
THE FUTURE Explore why an ordained ministry is necessary, how a deaconess would/could serve today, and what short-term and long-term steps could be taken for restoration of the office as well as rejuvenation of the entire di-aconate—male and female—for the building up of the Church today.
SPEAKERS Sister Rebecca of New Skete Monastery; Valerie A. Karras, ThD, PhD; AnnMarie
Mecera; Clio Pavlantos, MDiv; Teva Regule, PhD (candidate); Caren Stayer, PhD; Phyllis Zagano, PhD; and more.
CONFERENCE WILL INCLUDE presentations, a panel discussion, breakout session, Q&A after each session, and the opportunity for networking.
LIMITED LODGING AVAILABLE at Union Theological Seminary.
Room with one twin is available at $135 per room (two night minimum) Room with two twin beds is $165 (two night minimum).
More information on lodging here.
………………………………………………………………………………………………..
August 29, 2014
St. Phoebe Center to Hold its First Conference in Manhattan
St. Phoebe Center for the History of the Deaconess will host its first conference titled Women & Diaconal Ministry in the Orthodox Church: Past, Present & Future on Saturday, December 6, 2014 from 9 am to 5 pm at Union Theological Seminary in Manhattan, New York.
The conference will provide presentations and discussions on why an ordained ministry is necessary; how a deaconess would/could serve today; and what short-term and long-term steps could be taken for restoration of the female diaconate.
Speakers from various areas of social outreach will discuss diaconal work in the present such as pastoral care, ministry of the Word, and chaplaincy.
A session will also will support the restoration of the female diaconate with an overview of the comprehensive research that has already conducted on it history, theological apologetics, and recent attempts at restoration of the female diaconate in Greece and Russia.
Registration fee is $50 and includes lunch. Details for registering are forthcoming.
A limited number of lodging rooms are available at the Landmark, conveniently located on the campus of Union Theological Seminary.
Please share this information with others who may be interested in this topic.
Participants may also want to attend the 6th Annual Sophia Institute Conference being held Friday, December 5 at Union Theological Seminary. The theme for this conference is Healing Reconciliation & Forgiveness in Eastern Orthodox Perspectives. More information here.
……………………………………………………………………………………………………………………
May 5, 2014
Women Deacons FREE Online Seminar
Registration for the Massive Online Open Seminar (MOOS) on Women Deacons: Past, Present, Future is now open.
The seminar will run June 9-July 8, 2014. It's part of Hofstra University's online education effort.
Instructors for this FREE seminar are Gary Macy, William T. Ditewig, and Phyllis Zagano, all noted researchers and authors of articles and books on the women's diaconate. Dr. Zagano also is the 2012 recipient of VOTF's Catherine of Siena Award.
……………………………………………………………………………………………………………………
April 28, 2014
Advisory Board Member Archpriest Father Daniel Rentel posted this question on his Facebook page:
"Are you, can you envision, would you accept a female diaconate as an Orthodox believer?"
Here are some of the responses he received:
"Absolutely and unequivocably! This isn't an innovation, but a long overdue restoration. All deacons–male and female–are first and foremost ministers of charity and service. Liturgical roles flow from that and are directed by the needs of the church. This is an important reminder for male deacons, whose role may have become exclusively liturgical."
Priest Stephen Hrycyniak
"I find the idea of female deacons very exciting! There are so many gifted women in the church who have so much to offer!"
Carol LeMasters
"Yes, yes and yes, just like in the early church."
Cindy Chiatalas
"Yes, I am in favor of restoring the ancient practice."
Rob Dresdow
"I for one, am not and could not envision a woman diaconate. I do not believe I could accept her performing certain duties which would be required. Perhaps, I am of the old church teaching, regarding women and their place outside the altar."
Valerie Boswell
"Yes, just like the early Church. All deacons, both male & female should minister the needs of the Church both charitable services and liturgical."
John Kramer
"Yes. It's time for the church to move toward the spiritual needs and abilities of women in the diaconate."
Jeri Kozobarich
"It's hard to imagine that anyone would have a serious theological objection to the female diaconate, given its long tradition in the Church. And I think the best reason to revive it (as I think the Church of Greece has already begun to do) is that women are already doing a great deal of the work that would traditionally have been done by deaconesses, but without formal recognition and support from the Church. Giving them that recognition and support would, I think, strengthen their ministries.
"However, I have three grave concerns as well. The first is that if we revive the female diaconate, it should not be done as a capitulation to anyone's demands. The Church is the guardian of divine truth, not a secular organization that can be lobbied, and it's important that it never give the scandalous impression (as Rome has often done) that it can."
"The second is that we should do this because it edifies the Church as a whole, and not because any woman or group of women feels entitled to it. In the Church, we receive all things as undeserved grace, and nothing as a matter of entitlement or right. Even for men, the diaconate is to be a calling rather than a pursuit. And as with all other callings in the Church, it is the recognition of the Church as a whole that validates the individual's feeling of being called, and not the individual's feeling of being called that should guide the Church's willingness to grant recognition."
"Thirdly, the western world is awash with the modern secular philosophy that masculinity and femininity are mere social constructs and that men and women differ only in their physiology. Apart from the fact that this is contradicted by many current findings in psychological research, I believe that this essentially unisex view of humanity reduces the richness of human diversity rather than enhancing it, casts hostile suspicion on many venerable traditions of the Church, and potentially calls into question the wisdom of God in His creation ("male and female He created them"). If the female diaconate is to have a resurrection, as all Godly things do and should, then I would like to see it explained to the faithful in such a way that it does not lead them further into the darkness of gender confusion which already seeks to enchant them with its powerful, but sophomoric spells."
Andrew Hill