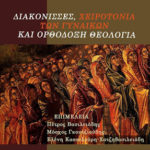 A book on deaconesses, dedicated to Patriarch of Alexandria is newly released: "Deaconesses, Ordination of Women and Orthodox Theology."  Proceedings of International Scientific Conference, Center of Ecumenical, Missiological and Environmental Studies "Metropolitan Panteleimon ", CEMES Publications Thessaloniki 2016. Edited by Petros Vassiliadis Moschos Goutzioudis Eleni Kasselouri – Xatzivassiliadi,  CEMES PUBLICATIONS Thessaloniki 2016.
The book is dedicated to His Beatitude, the Patriarch of Alexandria and All Africa, Theodoros II, as a humble expression of gratitude for the very important recent conciliar decision by the Orthodox Church under his leadership to proceed with the restoration of the order of deaconesses.
This book is about the admission of women into the sacramental diaconal priesthood of the Christian Church. Its main focus, as well as its point of departure, is the Orthodox theology. In addition to the restoration of the ancient order of deaconesses the book also deals from a purely theological perspective with the overall issue of the ordination of women. It covers almost all the fields of theological scholarship, thus providing an objective and paramount picture of a thorny and divisive issue.
The nearly 40 chapters of the book are scientific papers presented at an international conference with the title "Deaconesses, Ordination of Women and Orthodox Theology", organized last year, by the Center of Ecumenical, Missiological and Environmental Studies "Metropolitan Panteleimon Papageorgiou."